Studying abroad at accredited universities requires international students to be fully prepared for their future career studies. But what if you aren't quite prepared to join a Bachelor's programme because you don't meet the entry requirements or your English isn't good enough?
Don't worry! That's where preparation courses come in to help! Currently, more universities, especially in the United Kingdom, the United States and Australia, are providing foundation programmes to help international students to close the gap and prepare for their future dream studies.
Through preparation courses, you can gain the necessary foundation knowledge to prepare for a university degree course in an international study destination, in order to create a common ground for the different educational systems worldwide.
Find foundation programmes abroad
These include help with:
Academic Content – specific courses related to the study degree
English Language Preparation – improving English language skills
General Study Skills – understanding how academic studies works
Cultural Adaptation – helping students deal with cultural differences in a safe environment
1. How do I get accepted to a foundation degree abroad?
It's clear international foundation programmes offer lots of benefits to foreign students looking for a chance to pursue a university higher education. But what do you need to be admitted to a preparation course abroad? What are the entry requirements for foundation programmes?
Below we give an overview of the general entry requirements that you should take into account before signing up for a pre-Bachelor's or pre-Master's in the UK, USA, Australia, or other places in Europe.
The admission criteria for international foundation programmes are lower compared to Bachelor's or Master's degrees as their meant to prepare you for attending them. University preparation courses generally have two types of entry requirements for international students:
Language proficiency (in most cases English)
Academic requirements
2. What are the language requirements for foundation programmes?
A study made by Studyportals shows that IELTS and TOEFL are the most commonly accepted language tests in English-speaking countries.
To be accepted, you must prove a level of knowledge which would enable you to continue studies in your chosen subjects whether it's humanities, engineering, medical science, or others.
In some cases, English language requirements are the only entry requirements for preparation programme application, as academic requirements are tackled throughout the entire programme. It is important for you to prepare in advance. Your language test score will make a big difference.
Usually, the desired level of English proficiency are:
IELTS – a minimum score of 4.5 – 5.0
TOEFL – no less than iBT at least 60 or equivalent
Check out IELTS test locations and dates worldwide
The following articles offer you a guide to help you study and prepare for these English language tests: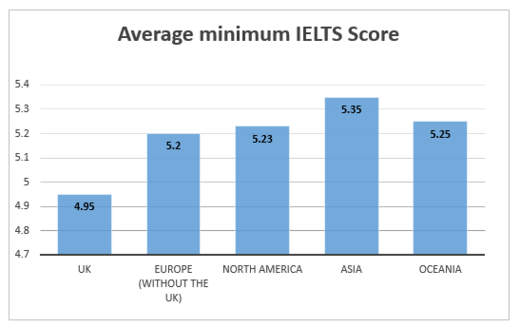 Acceptance depends on students' existing level of English proficiency and the English language level required for the degree programme. The average minimum score that is accepted by programmes in the United Kingdom is 4.95 while in native English speaking North America the average minimum accepted level is 5.23.
3. What are the Academic Requirements for foundation programmes?
Most of the times, universities look for good high school graduation grades or equivalent academic study results for international students applying for a foundation degree. Due to differences in the educational systems, institutions list on their official website minimum scores accepted for each country.
You have to be aware of the fact that your high school record should confirm rigour and hard work in the types of courses you have pursued, especially if the study courses are closely related to what you are planning to study.
A competitive academic record should show challenging advanced level work, such as honours, AP (advanced placement courses), or IB (International Baccalaureate) courses, and more.
Here you can read a few examples of academic requirements for preparation courses according to standards in different countries providing international foundation programmes:
Entry requirements for foundation programmes in Australia
Most institutions require applicants to have a qualification that is equivalent to the 12th year (completion of high school) in Australia. Other universities require successful completion of VCE (The Victorian Certificate of Education – high school certificate standard for Australia) or equivalent.
Entry requirements for foundation programmes in New Zealand
Universities apply admission standards according to NCEA - The National Certificate of Educational Achievement, which is the main national qualification for secondary school students in New Zealand.
For most foundation degrees, students must have completed Year 13 at a New Zealand secondary school (or its equivalent) in the calendar year that the application for preparation course entry is made.
In other cases, students should acquire NCEA Level 2, which consists of 60 credits at level 2 or above, or + 20 credits from any level. For other higher educational institutions, candidates must have completed literacy and numeracy requirements for general university entrance. Applicants should also pass an interview.
Entry requirements for foundation programmes in the United Kingdom
Top universities in the UK accept any standardised test, which students have to pass at the end of high school. Generally, universities post on the website the minimum accepted score for each country of origin of students.
For example, UK foundation programmes accept a European Baccalaureate diploma with an average of 85% or above, with scores of between 8 and 9 in specified subjects.
Compare foundation courses worldwide
Entry requirements for foundation programmes in the United States
In the U.S., most universities require students a 2.5+ GPA or equivalent, plus TOEFL iBT minimum score between 60 and 80. Several institutions accept candidates who have completed a number of years of study during secondary school in the following fields:
English: 4 years
Mathematics: 4 years
History/Social Studies: 3 or more years
Science: 3 or more years
A foundation degree prepares you for the future!
No matter where you plan to pursue an academic foundation programme, you should always check with the university and see the exact entry requirements you need to meet in order to enrol.