Creative Industries is one of the fastest growing sectors in Wales and there's never been a better time to start on your path to a creative career. Recent developments in Cardiff include; BBC Wales' Drama Village at Roath Lock; ITV Wales relocation to Cardiff Bay; Pinewood Studios opening; Welsh Government new investment fund of £30m; Completion of GloWorks in Cardiff Bay; Project work with film companies including It's My Shout.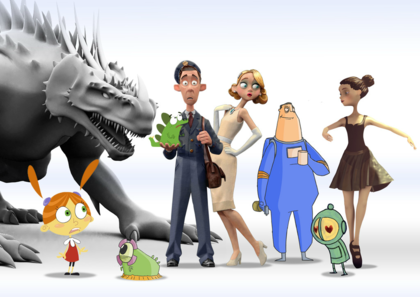 It's an exciting time to be in Cardiff with all of the investment in the Creative Industries and the University of South Wales is the ideal setting to begin your studies towards your creative career. The faculty is based at the ATRiuM building in Cardiff and we are currently undergoing major expansion work to offer brand new facilities for many of our courses.
View Bachelors in Film, Photography and Media
The centre of Wales' capital city is the perfect location for connecting to a great range of creative organisations and activities. Cardiff also provides great opportunities for developing your employment networks. Our undergraduate courses are designed to challenge and engage you with intellectual, creative and practical skills that will enable you to develop new ideas and operate professionally within the industry.
What we offer
We're always striving to ensure our courses remain relevant and that our graduates are prepared to engage successfully with the creative industries to build their careers. This includes offering our students the opportunity of work experience, to work in collaborative teams, and to work on 'live' projects in the industry. These activities allow our students to gain distinctive experiences and relevant skills, including teamwork, entrepreneurship and a real insight into how the industry works – all of which puts you a step ahead when you graduate.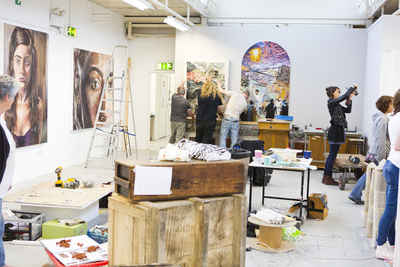 Facilities
The five storey ATRiuM building at Cardiff Campus offers an exceptional range of creative facilities. These include a theatre, drama studios, HD TV studios and control room with an industry-standard mixing desk, radio studios, photography studios and editing suites.
The campus also has darkrooms, a cinema with digital video, 16 mm film projection and surround sound facilities, purpose-built sound recording studios with analogue and digital consoles and suites for animation and games. Our students have access to a number of studio spaces, which are available for life drawing, drama, television and film set design, interior design and fashion. Cardiff Campus has excellent resources and offers a high level of student support. There's also a Students Union for you to enjoy, which houses a bar and restaurant, perfect to grab a drink or some food between lectures.
Courses in Media
Our FILM provision has a long and successful heritage. We're celebrating 50 years of film education at the University this year, which is testament to the strength of our course, our alumni and the staff who teach on the course. Many of these are practising film makers, and researchers. Examples of the outstanding success within this subject are the results from film festivals both locally and nationally where our students consistently win awards, for example, Ffresh Film Festival and The Royal Television Society awards. Our students and staff also work on commissions for independent films and national television including the BBC.
Within JOURNALISM AND MEDIA you can choose a practical course such as Media Production or Journalism. Alternatively you may prefer a more theory based course where you'll explore various elements of these subjects.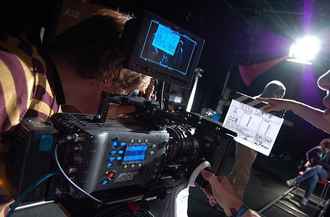 ANIMATION has been running at the University for the last 40 years, evolving over this time into two courses focused on 2D drawing, and 3D stop-motion and 3D CG animation. In 2000 we expanded our offering to include one of the first VISUAL EFFECTS degrees in the UK. To see examples of the amazing work we do in this area visit www.vfx.me.uk
Our students have achieved success and awards in numerous festivals and our graduates are employed at film, TV and games production facilities worldwide.
Find Bachelors in Video Games and Multimedia
Within GAMES we offer a range of courses from game art (creating the visual concepts for a game) to games design (all about making the game) and games enterprise (which focuses on the business side of the industry). As with animation, our course are commercially relevant and we're involved in many industry events. Our students have won several awards including BAFTAs.
Award winning guest lecturers
We have a long tradition of having guest lectures from the industry and recently USW Film students received a visit from multi-award winning documentary filmmaker Kim Longinotto. Kim has been making films for over 30 years and has been dubbed 'the invisible woman' by The Guardian due to her preference to remain unheard and unseen behind the camera.
Kim has won awards for her films including 'The Day I Will Never Forget', about female circumcision in Kenya, Rough Aunties and Shinjuku Boys.
The students were also treated to a special exclusive glimpse at Kim's new film, Dreamcatcher, which will be released in January at the Sundance Film Festival. Kim said on her visit to the University: "I do very few events like this but came today because of my connection with John Burgan, who teaches on the course, as we've been friends for a long time. The questions today have been great – all about filmmaking and really insightful. We could've carried on for hours!"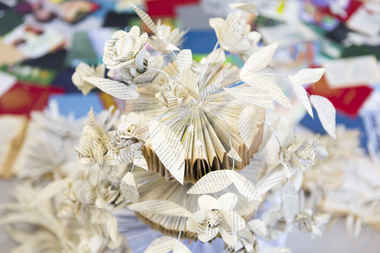 Student Employability
This summer Final year two of our BA (Hons) Visual Effects and Motion Graphics students have been the first to gain employment at the new Cardiff-based hub of multi-Bafta-award-winners Milk Visual Effects. Milk have recently opened an office at the GloWorks building in Cardiff Bay, joining the emerging infrastructure for the creative industries in the city and have been fast to snap up the best of the local talent emerging from USW. Milk are in production on ITV's 13-part warrior drama Beowulf, Fox TV's The Bastard Executioner, BBC's Doctor Who series nine and recently finished feature film reboot Poltergeist and the film High Rise which stars Welsh actor Luke Evans.
And if that's not enough they are also working on the new series of Thunderbirds for ITV and BBC Wales' Sherlock.
Learn more about the benefits of studying at the University of South Wales!